Hotel Loksagar is the best place and a new heritage destination to stay in Mysore which located in the heartbeat of the city. Historical Mysore Palace, Mysore Exhibition is just 5 minutes walk from Hotel Loksagar. We are tourists friendly, Jaganmohan Palace (Art Gallery) is in the eyeshot distance, Mysore Zoo, St.philominas church, Bus terminals, Central Railway station which is just 10 minutes drive from Hotel Loksagar. All the above destinations are within a 2 km radius. Mysore Airport is just 20 mins drive from Hotel Loksagar. You are just 9.7 kms away and you can reach the airport within 10 minutes.
Homely Experience at Hotel Loksagar?
Hotel Loksagar is the best place to stay in Mysore with family. We are a highly reputed family hotel in Mysore where you can experience the homely environment which is more comfortable and you will feel that you are at home away from home. Hotel Loksagar is the blend of rich Mysore culture and equipped recent vogue. The hotel is furnished to international standards equipped with 30 A/C rooms, rich amenities, and the best hospitality service. All 30 rooms are designed differently and every visit gives you a new experience. you can select the room of your choice based on your needs and preferences. We have a Lokruchi multi-cuisine vegetarian restaurant, Where You Can Enjoy Delicious Vegetarian food from all the regions of India. Lokruchi is the delicious delight for vegetarians and food lovers. We have a banquet hall, ample parking space, A/c equipped rooms, in-house shopping, Rooftop Mysore Palace view, free WiFi, and selfie spots. Rooms at Hotel Loksagar are designed with the best Mysore art inlay works with rosewood furniture for beds. We Endeavor to keep our guests happy and we are available at all times to assist any help required by our guests during their stay.
Family Friendly
Hotel Loksagar makes you feel that you are not away from home. We maintain high hygiene and a homely environment at our place which makes your stay highly comfortable. The rooms are well-furnished and family luxuries will be fulfilled. We treat our guests as a family and make sure that the needs are highly satisfied. Our staff at the hotel are highly flexible, understandable and will help you in finding local support in whatever you are concerned about. We will understand your requirement and make sure it is maintained. The infrastructure is highly secured and automated so that it will not affect the family comfort.
Tourist's best choice
Hotel Loksagar is located in the heart of the city as such it is nearest to all tourist spots. You can reach any place by 20 minutes from Hotel Loksagar. We assist and guide our guests to experience their visit pleasant and worthy. We make sure they visit each sightseeing spots and learn about its importance, we will be guiding them the best places to visit based on their choice and duration of the stay.
In-house Restaurant The Lok Ruchi
The speciality of Lok Ruchi is Vegetarian food and we are specialized in "JainFood" which is more concerned with health and nutritional value. You need not bother eating stomach full at Lok Ruchi because we don't use any added soda, we prepare food more cautiously and cleanly so that you will get a feeling of eating at home. The restaurant will be a delight for food lovers who love to eat. You will be getting all kinds of food and we are happy to serve you, South Indian, North Indian, Chinese, Chats, Tandoor, Fresh juice and sweets.
In-house shopping
Hotel Loksagar has an in-house shopping facility where you can get the Mysore specialty products; The heritage design clothes, Mysore sandal soaps, Mysore sandal perfumes, and Mysore handicrafts, etc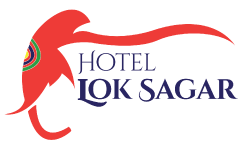 About us
Hotel Loksagar is the best place and a new heritage destination to stay in Mysore which is located in the heart of the city.
Call
+91-7338390999
0821-4245333
Address
#268, Lakshivilas Road, Jaganmohan Palace Circle, Mysore-570001, Karnataka, India
Uniqueness
Family-friendly
Lok-Ruchi Cuisine
In house Shop
Travel Guidance
Extravagant Rooms
Air-Ticket Booking
Tanga Ride